We plant Kaart Blanche trees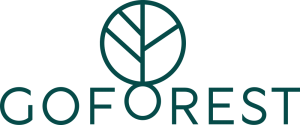 As of July 1, 2021, we have entered into a partnership with GoForest
Thanks to you we are planting 40 trees every month whuuut!!! So in one year that's almost 500 trees. #notimetowaste
Go Forest's core business is planting trees. In Belgium, but also and especially abroad, in the regions where trees are most needed and have the greatest impact. Projects are currently underway in Armenia, Uganda and Peru, among others.
In addition to planting trees, Go Forest also wants to encourage a change in behaviour, both in the Netherlands and abroad. The organization wants to inspire and motivate people so that the deforestation problem is tackled at the root.
for more info visit: www.goforest.be
Are the cards ecological?
Our greeting cards, gift tags and posters are printed on environmentally friendly paper.
MultiDesign® Natural is a natural white, wood-free, uncoated premium offset paper and cardboard with a matt surface and a rich paper feel. MultiDesign® Natural is FSC®-certified and ageing-resistant.
Each card comes with a recycled brown Kraft envelope.
The card and envelope are enclosed in a plastic sleeve for protection against dirt and water. We are looking for an ecological solution for this. If you prefer your cards to be delivered without plastic, you can check this at the 'Card Options' on the 'Checkout' page ♻️.
What payment options are currently available?
We currently accept the following payment methods:
Bancontact
Paypal or credit card
Ideal (Netherlands)
Klarna – Pay later (within 21 days)
Apple Pay
Wat betekent 'nabestelling'
Het kan gebeuren dat er 'beschikbaar via nabestelling' bij een kaartje staat.
Soms gaat het zo snel in de webshop dat we geen tijd hebben om de stock aan te vullen maar normaal hebben we van alles voldoende voorraad. Indien er hierdoor vertraging zou kunnen zijn, laten we zeker iets weten.
What are the possibilities for shipping?
During the week, we post the parcels immediately the next working day. Orders on Friday and in the weekend will be mailed the following Monday.
Pick-up: free of charge (only possible in Ghent in Belgium). Orders can be picked up at our office in the Eskimo fabriek (Wiedauwkaai 23Y – 9000 Ghent). Pick-up is only possible on Tuesdays and Fridays between 14-17h by appointment.
We offer three delivery methods via Bpost shipping manager. Due to too many lost parcels or late deliveries, shipping with ordinary stamps Non Prior & Prior has not been offered since 10/10/19.
Track and Trace: €6.50 (receipt within 1-2 working days and e-mail with code to track the parcel)
Choice between the following delivery methods:
At home or at the office
Pick-up point
Package terminal
Free shipping in Belgium: starting from 10 cards.
For other items (mouth mask, etc) starting from €50-75 in your shopping cart.
When is there free shipping?
Free shipping in Belgium
Standard shipping costs 6.50 euro (< 10 cards)
From 10 cards
For other items from 50 or 75 eur in your shopping cart
Three A3 posters = 2 to buy + 1 free & free shipping
Six A3 posters = 4 to buy + 2 free & free shipping
The Netherlands
Standard shipping costs 8.50 euro
From 30 euro in your basket there are no shipping costs
Rest Europe
Standard shipping costs 12 euro
From 75 euro in your shopping cart
Outside Europe
United States shipping cost 16 euro
For the moment no free shipping 💸
Ik heb een fout gemaakt in mijn verzendadres. Wat nu?
Opgelet: Kijk het verzendadres goed na tijdens de bestelling. Wijzigingen kunnen enkel tijdens de bestelling en niet achteraf via 'mijn account'. Het label voor Bpost wordt immers meteen na de betaling aangemaakt.
Indien je merkt dat er een fout staat in het adres stuur dan zo snel mogelijk een mailtje zodat we dit manueel kunnen aanpassen.
Wij zijn niet verantwoordelijk voor foute adressen. Indien je een fout adres opgaf, zullen we helaas de kosten voor een tweede verzending (opnieuw) moeten aanrekenen.
Hoe kan ik mijn bestelling opvolgen?
Van zodra je pakket bij Kaart Blanche verzonden wordt, zal je een bevestiging van Bpost per e-mail ontvangen. In deze e-mail kan je de trackingcode van je pakket terugvinden, indien je koos voor thuislevering of in een Bpost afhaalpunt. Met deze code kan je het pakket via de website van Bpost opvolgen: www.bpost.be/nl/track/.
How long does it take to get my order?
During the week, we post the parcels immediately the next working day.
Track and Trace: €5,50 (receipt within 1-2 working days and code to track the parcel.
Please note that delivery is not guaranteed on weekends and Mondays. Sorry, we are not liable for lost or late parcels.
Estimated arrival times outside Belgium are depending local services. Therefore we can't predict a delivery time.
What should I do if I haven't received my order?
Wait a moment. Most orders take 1-3 working days to be delivered. If you really want to make sure your package arrives on time, choose a track & trace option.
Can I also sell your cards in my store or other business?
Waar vind ik jullie fysieke verkooppunten terug?
Stuur ons een mailtje met je postcode of een berichtje via Instagram en we laten het je zo snel mogelijk weten 🙂
Do you have your own physical store?
Not yet, but we do have a showroom where orders can be picked up by appointment in the Eskimo factory – Wiedauwkaai 23Y – 9000 Ghent.