Frequently asked questions
We plant Kaart Blanche trees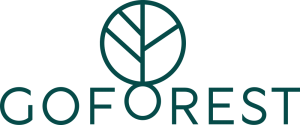 As of July 1, 2021, we have entered into a partnership with GoForest
Thanks to you we are planting 40 trees every month whuuut!!! So in one year that's almost 500 trees. #notimetowaste
Go Forest's core business is planting trees. In Belgium, but also and especially abroad, in the regions where trees are most needed and have the greatest impact. Projects are currently underway in Armenia, Uganda and Peru, among others.
In addition to planting trees, Go Forest also wants to encourage a change in behaviour, both in the Netherlands and abroad. The organization wants to inspire and motivate people so that the deforestation problem is tackled at the root.
for more info visit: www.goforest.be
Are the cards ecological?
Our greeting cards, gift tags and posters are printed on environmentally friendly paper.
MultiDesign® Natural is a natural white, wood-free, uncoated premium offset paper and cardboard with a matt surface and a rich paper feel. MultiDesign® Natural is FSC®-certified and ageing-resistant.
Each card comes with a recycled brown Kraft envelope.
The card and envelope are enclosed in a plastic sleeve for protection against dirt and water. We are looking for an ecological solution for this. If you prefer your cards to be delivered without plastic, you can check this at the 'Card Options' on the 'Checkout' page ♻️.
What payment options are currently available?
We currently accept the following payment methods:
Bancontact
Paypal or credit card
Ideal (Netherlands)
Klarna – Pay later (within 21 days)
Apple Pay
Wat betekent 'nabestelling'
Het kan gebeuren dat er 'beschikbaar via nabestelling' bij een kaartje staat.
Soms gaat het zo snel in de webshop dat we geen tijd hebben om de stock aan te vullen maar normaal hebben we van alles voldoende voorraad. Indien er hierdoor vertraging zou kunnen zijn, laten we zeker iets weten.
Still have a question?
Contact us using the form below.
Eskimofabriek
Wiedauwkaai 23Y, 9000 Gent